4 New 'Shoals-Centric' Things to Try in 2023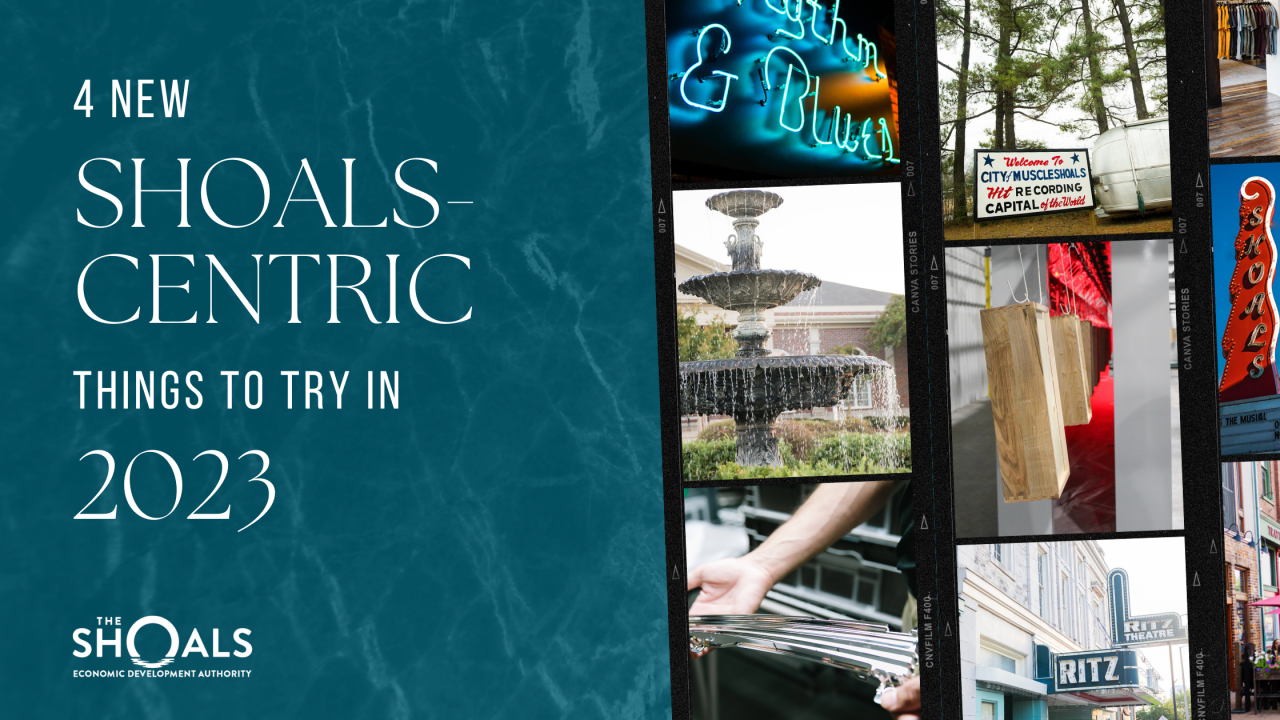 The beginning of the year is a new and exciting time. Everyone seems to be making resolutions or participating in challenges. These can be a great way to establish and focus on your goals for the coming months. We have four new 'Shoals-centric' things for you to explore in 2023 to learn more about The Shoals.
1. Learn About a New Company!
The Shoals is home to many organizations and industries producing exciting products and components!
• DURA Automotive Systems produces battery trays for electric vehicles.
• Constellium produces aluminum sheet for soda cans and aluminum automotive coils.
• North American Lighting supplies lighting systems to major automotive brands.
• TASUS & Project XYZ also provide components to the automotive industry.
• Kith Kitchens produces high-quality cabinetry.
• Southwire produces half of the cable used to transmit and distribute electricity throughout the nation, and one in two new homes built in the US contain their wire.
• nSide is a school safety platform with many components currently in 210 school systems.
• Custom Synthetic Fiber - uses 100% recycled content to make fiber for pillows, mattresses, clothes, wheel wells, etc.
• Thacker Casket – is the largest family-owned casket company in the United States and was once featured on the History Channel's 'Modern Marvels' TV show.
• International Fertilizer Development Center - an independent non-profit organization that combines innovative research, market systems development, and strategic partnerships to spread sustainable agricultural solutions for improved soil health, food security, and livelihoods worldwide.
These are only a handful of the companies doing great things in The Shoals. There are so many more for you to explore!

2. Jumpstart Your Career!
If the research from above piqued your interest and you want to change or start a new career path! Many local companies have job opportunities and institutions to help you get the training you need. Northwest-Shoals Community College just launched the Alabama Career Essentials Program, which offers classes for FREE for individuals at least 16 years of age. This program provides relevant, cutting-edge, and industry-driven employability skills training to better prepare individuals for the Alabama workforce. For more information and to submit an interest form, visit: https://nwscc.edu/ace.
You can find current job listings in a couple of different places. Each month, The Shoals EDA includes a section of industry-relevant listings in our newsletter. Sign up to ensure you don't miss this or other news: https://lp.constantcontactpages.com/su/MHjaOKp. The Sheffield Career Center is a fantastic resource for opportunities in The Shoals. Be sure to follow their Facebook page for information on job fairs, hiring events, and more!
3. Visit a New Shoals Landmark!
The Shoals has rich roots in many different eras of history. Often, we know about this history, but rarely (if ever!) visit the museums, monuments, etc., right here in our community. Maybe you know about our musical heritage but have never visited FAME Recording Studios, Muscle Shoals Sound, the Alabama Music Hall of Fame, or WC Handy's Birthplace. If you need inspiration for your home, visit the Frank Llyod Wright Rosenbaum House to learn more about how the "greatest American architect of all time" designed and constructed this home. Other homes to visit in the community include Ivy Green- Helen Keller's Birthplace and Belle Mont Mansion- one of a few Palladian-style houses in the deep South. Suppose you want to learn more about the Native American roots in our community. The Florence Indian Mound & Museum, Te-lah-nay's (Tom's) Wall, and the Sacred Way Sanctuary are the perfect ways to do so. These are only a few options to explore here in The Shoals!
4. Try a New (or new-to-you!) Local Business!
Whether trying new cuisine, having a unique experience or shopping for the perfect find, there is a local Shoals business for you! Yumm Thai Sushi and Beyond, the Lava Room, North Wood Social, SALT, and Superhero Chefs each provide unique dishes you need to try. Catch a performance at For the Record Music Hall & Bar or paint a new piece of art (maybe pottery or canvas!) at The Artsy Place. Listing all of the excellent local businesses here in The Shoals would take hours, so be sure to follow the Shoals Chamber and our local cities & towns to see information regarding grand openings, re-openings, celebrations, and more!
No matter how many of these new things you try, we are excited to see where 2023 takes The Shoals! We hope to see you at an event, job fair, or maybe a museum.
By accepting you will be accessing a service provided by a third-party external to https://www.seda-shoals.com/