7 Compelling Reasons to Pursue a Career in Technology: Exploring a World of Opportunity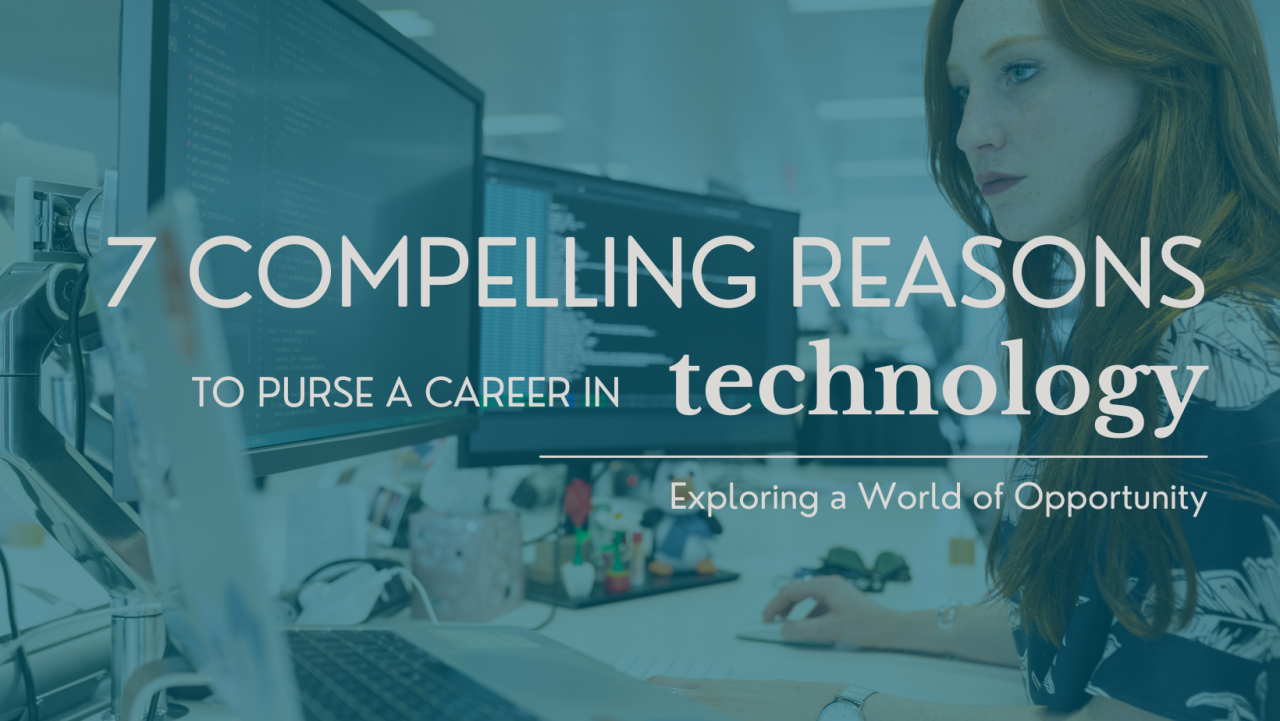 In today's fast-paced world, technology has become a crucial part of almost every industry, and the demand for professionals in the technology field is growing rapidly. A career in technology offers many benefits that make it an attractive career option for many people.
High demand for tech professionals: With the increasing use of technology in almost every industry, the demand for professionals with technical expertise is at an all-time high. Companies are looking for skilled individuals who can develop, maintain, and improve their technological infrastructure.
Competitive salary: A career in technology is often well-paid, with many opportunities for advancement. According to recent statistics, the average salary for a technology professional is higher than the national average, making it a lucrative career option. In 2021, the federal annual average wage was $58,260. The average yearly salary of software developers the same year was $120,990 (both statistics from the U.S. Bureau of Labor Statistics)
Continuous learning and development: Technology is constantly evolving, and professionals in this field must stay current with the latest advancements. This requires continuous learning and development, which keeps the work exciting and challenging.
Flexibility: Many technology jobs allow for flexible work arrangements, such as remote work or flexible schedules. This can provide greater work-life balance and more control over one's schedule.
Career growth opportunities: The technology industry offers many opportunities for career growth, with various paths for advancement. With experience and skills, tech professionals can move into leadership positions or specialize in a specific area of technology.
Creativity and innovation: Technology offers a space for creativity and innovation as professionals work to develop new products and services that can change the world. There is a sense of satisfaction in being a part of something that has the potential to make a real impact on people's lives.
Diverse range of industries: Technology is used in almost every industry, from healthcare to finance to retail. This means that tech professionals can work in a wide range of fields, allowing for opportunities to apply their skills in different contexts.
If these benefits have piqued your interest in technology, the new Code Alabama program may be for you! This new coding boot camp is a 96-hour (8-week) course held June 5- July 27, 2023. Students who complete this program will possess a fundamental understanding of programming concepts, get exposure and hands-on experience with two popular programming languages, and begin to acquire the skills necessary to become contributing members of a software development team. This is an application process with a limited number of scholarships available. The deadline to apply for one of the 12 scholarships is March 31. To apply, visit bit.ly/codeAL2023.
Code Alabama is a partnership between the University of North Alabama's Center for Learning & Professional Development, the Shoals Economic Development Authority, and Tennessee Valley Authority Economic Development.
By accepting you will be accessing a service provided by a third-party external to https://www.seda-shoals.com/