The Shoals: How Space, Pace & Community Can Change Your Life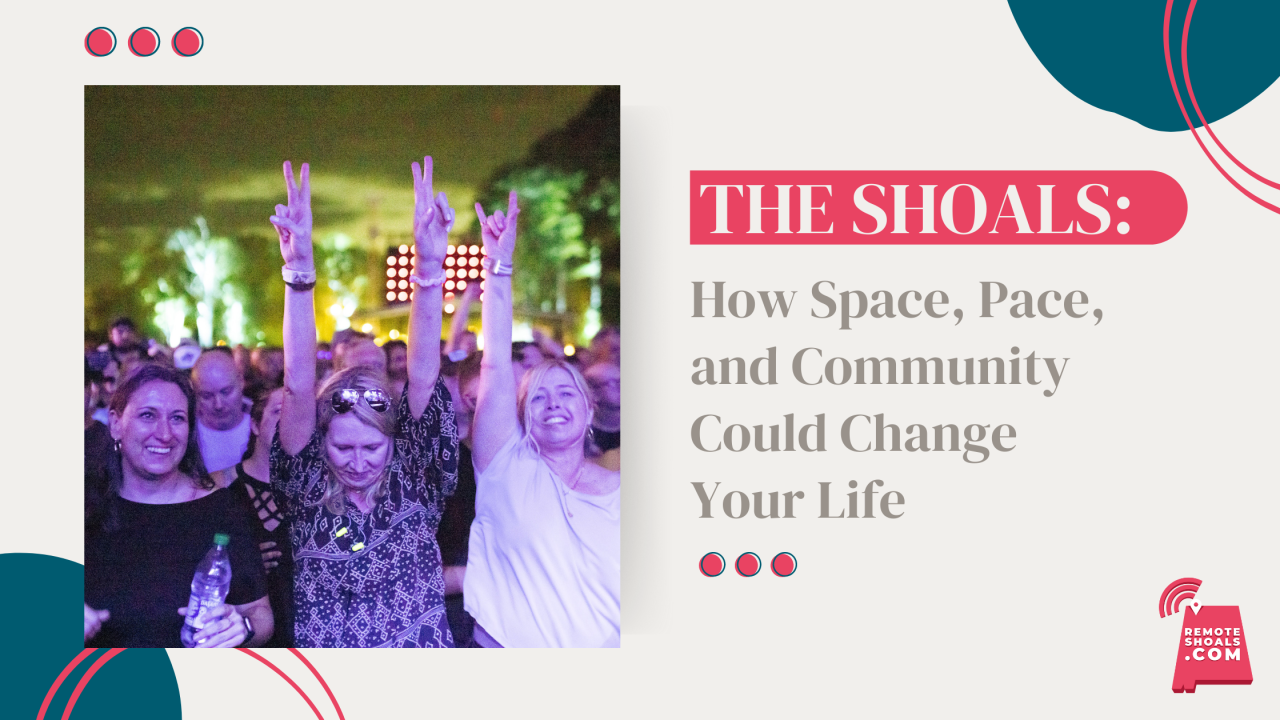 For a remote worker, the decision on where to live can be overwhelming. When all you need is robust internet access, it is almost like you're given a blank check. You could throw a dart on a map or strategically narrow down countries, states, cities, etc. Whichever method is your preference, where to live is a major decision with many factors to consider.

Two counties in Northwest Alabama, each with their notable history, learned they are stronger together and have worked closely to develop the community lovingly called The Shoals. Each part of The Shoals' history-- from the oldest university in Alabama to its rich musical background, including some of the greats like Aretha Franklin and The Rolling Stones, -- has contributed to who they are today and why this area might offer exactly what you are looking for. Through the Remote Shoals program, over 50 remote workers have relocated to The Shoals to experience what this region has to offer. Three words have emerged as the perfect description of this area: space, pace, and community.

SPACE:
The Shoals has plenty of space for citizens and businesses alike to grow and develop. The physical space offered provides opportunities for outdoor recreation, gardening, or whatever your heart desires. The Shoals has everything you need to fulfill your wanderlust, all in your backyard: rivers, kayaking, hiking, and cruising scenic routes like the Natchez Trace Parkway. With an abundance of parks, walking trails, and recreational areas, The Shoals has the ideal spot for everyone to take a break and get some fresh air. Housing options in the area also include properties anywhere from a good-size backyard to a few acres. This may be the perfect chance to start the hobby farm you've been dreaming about!
PACE:
Since The Shoals is smaller than other metropolitan areas, their pace of life is a little bit slower. Similar to the space in The Shoals, this slower pace allows the opportunity to take a deep breath and not rush from one place to another. Traffic is almost non-existent meaning you can get from one city to another in 10 to 15 minutes. "For a few years, a desire to leave Los Angeles had been stirring inside me," says Rochelle Scott who moved to The Shoals in Fall 2021. She goes on to mention the "slower pace of life and absence of heavy traffic is lovely." People in The Shoals spend less time in their cars and more time at their destination with the people they care about. No more needing to allow extra time for traffic and you can plan to easily park in Downtown Florence for your dinner at Odette!
COMMUNITY:
While The Shoals' pace of life is slower, it is not slow enough to bore you. That is where the community comes into play. The Shoals is home to amenities that range from our stylish coffee shops and thriving downtowns to shopping centers that provide anything you need on a daily basis. There are plenty of festivals throughout the year, such as Arts Alive, the Helen Keller Festival, ShoalsFest, Oka Kapassa, the Alabama Renaissance Faire, and more. More frequent events like First Fridays in Downtown Florence highlight local businesses and give the community a space to connect and support one another. The welcoming community found in The Shoals makes it easy for one to find their place and plug into all the area has to offer. Alex Kouskolekas and his wife move to The Shoals in Summer 2021. Alex says, "part of the rationale for moving was a desire to get involved in the community again." Not too long after his move, Alex was appointed to his city's Redevelopment Board. His seat on this board "heightens the sense of being invested in the community and its future." If you have a passion, The Shoals has a place for you to connect with others of similar interest!
The Shoals is the perfect place to plant roots and truly flourish. And they want you to be a part of the growing community. If you're a remote worker who resonated with what this community has to offer, you can apply for a chance to receive up to $10,000 to live in and work from The Shoals through the Remote Shoals program. Applications are open now at remoteshoals.com.
By accepting you will be accessing a service provided by a third-party external to https://www.seda-shoals.com/