Ørsted Makes Donation to Cherokee High School in Honor of Muscle Shoals Solar Project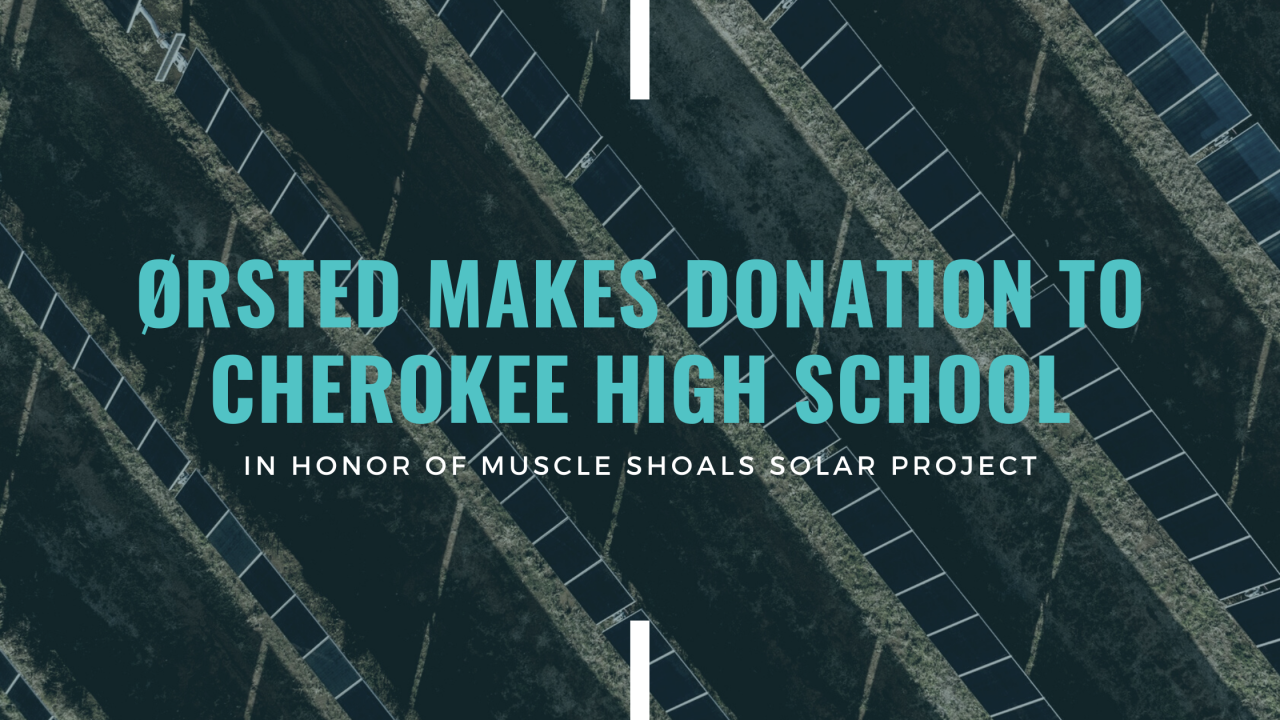 Ørsted's recently completed solar panel project, called the Muscle Shoals solar project, is an 18,000-acre site with 670,000 solar panels located in Colbert County near the town of Cherokee. As Ørsted continues to invest in the green-energy profile in North Alabama, they are also investing into the local community with a recently announced donation of $35,000 to Cherokee High School.
With this solar farm comes many different accolades. This first project in the Tennessee Valley Authority's (TVA) Green Invest program is the largest solar energy farm in the TVA system and the state of Alabama. Producing a net capacity of 227 megawatts, which is the equivalent power of 36,300 homes annually, this solar farm will assist in the sustainability goals of Facebook's data center in Huntsville which began operations on September 15, 2021.
"This solar farm is a historic moment in TVA history," says Doug Perry, senior vice president for TVA Commercial Energy Solutions. "It's the first Green Invest project to come online, and it demonstrates the value of TVA's focus on cleaner energy. Green Invest is helping us build the clean, low-cost energy system of the future that's essential to achieving our environmental goals and competing for jobs in the new clean economy."
Ørsted's recent donation of $35,000 to Cherokee High School will be given as $15,000 to the school's ball field and $20,000 to underserved children attending Cherokee Schools through the Christmas Blessings project. "We are just thrilled about this donation to the Christmas project," said Pamela Worsham, Principal of Cherokee High School. "It will help children for several years to come." The donation to the ball field will help kickstart drawing up plans, conducting soil studies, etc. in preparation for the new baseball and softball fields.
The Muscle Shoals solar project is the result of admirable collaboration between Ørsted, TVA, Facebook, and the Shoals Economic Development Authority. This investment would also not have been possible without the support from local leaders such as the Colbert County Commission.
By accepting you will be accessing a service provided by a third-party external to https://www.seda-shoals.com/